Ulltrasound Face Massager Handheld Ultrasonic Ion Face Lift Device
The ultrasound face massager is a multi-function comprehensive beauty instrument. It combines the most effective 4 skin care high techs: Ultrasonic, Positive Ion/Negative Ion and Heat Therapy.
Specification:
Model Number: SM-KC3100
Size: 203 * 50.5 * 60 mm
Weight: 167g
Materials: ABS + Stainless Steel
Technology: Ultrasonic + Ion
Ultrasonic Frequency: 3 MHz
Applicable Parts: Face, Neck
Input Voltage: DC 5V
Working Voltage: DC 3.7V
Max Power: 1.5W
Ionic Voltage: 10V
Battery: 1000 mAh
Certification: CE, ROHS
Warranty: 1 Year
Package Include:
* 1 pc ultrasound face massager
* 1 pc micro USB cable
* 1 pc user manual
* 1 pc portable plush pouch
* 1 pc high-end gift box
Main Features:
Ultrasound vibration smashes stubborn dirt and helps to open pores
Thermotherapy (also called Heat Therapy) + 3 MHz ultrasonic rejuvenation
Effectively lead-out dirt and blackhead out of pores via positive ion
Deeply lead-in nutrition of skin care products via negative ion
Illustration: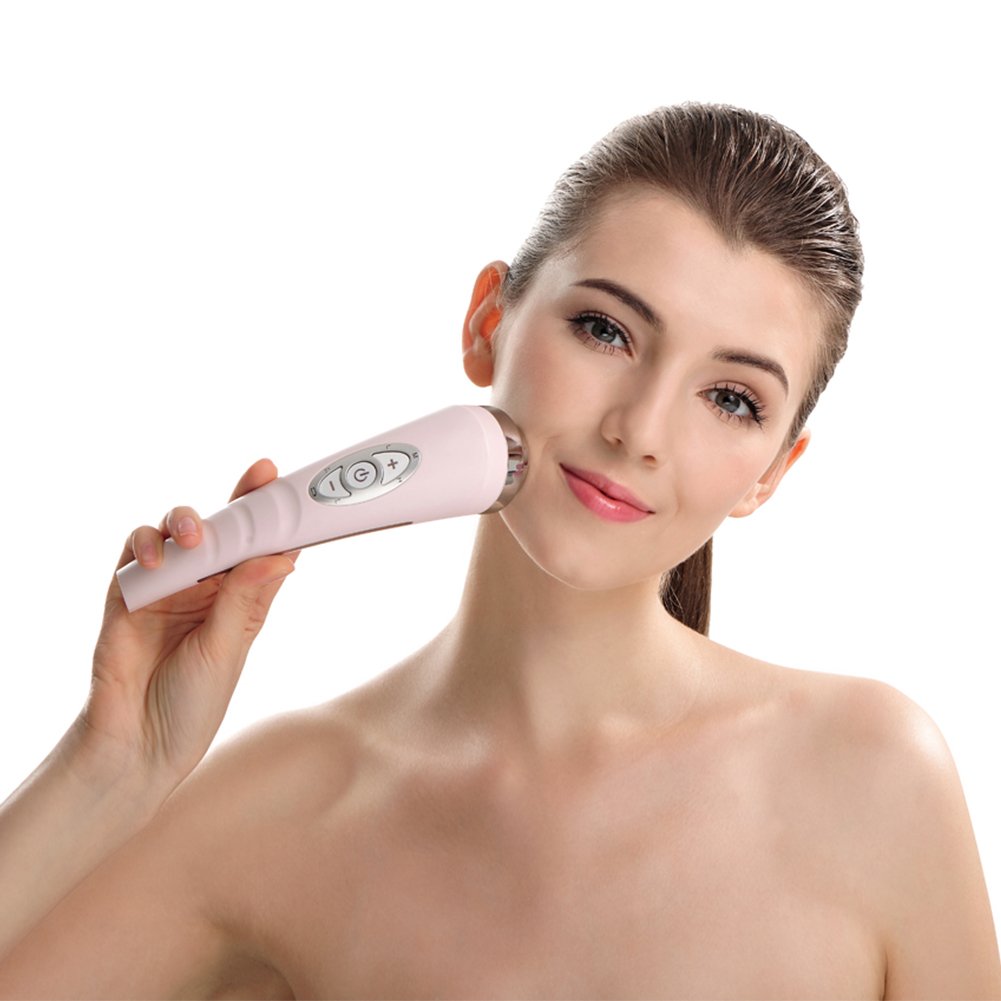 How to Test:
The ultrasonic beauty massager emits a deep micro-vibration so rapid, that it cannot be seen or felt by the surface of our skin – so don't think your Ultrasonic face massager isn't working!
To test it, place a drop or two of water on the metal head of the Ultrasonic Beauty Massager, then press 'Power' switch to turn on. You will see how the water is broken into tinier and tinier droplets by the action of micro-vibration.
Things You May Like to Know:
Ultrasound or Ultrasonic beauty exploits the same technology which doctors use in antenatal scans for pregnant women, pain-killing effects, and possible benefits to healing of fractures and scar tissue – but in its beauty application it penetrates a few millimeters beneath the skin to reach the adipose tissue where cellulite is trapped.
Muscle and bone have been found to absorb more ultrasonic energy than other heterogeneous tissues, because they better reflect the longitudinal waves of ultrasound, transforming them into transverse waves to create a warming massage effect. This happens most commonly in the areas between muscle and bone or between the muscle and tendon.
By applying ultrasonic waves to these areas, physical therapists can take advantage of this thermal effect to reduce inflammation and increase mobility in the joints. Similarly in beauty, Ultrasound sets up invisible micro-vibrations deep within in the cells, stimulating changes to the appearance of skin and underlying tissues, when used as an adjunct to best-practices routines for optimum health and beauty. That's why Ultrasound / Ultrasonic become so popular in Beauty & Personal Care Industry.